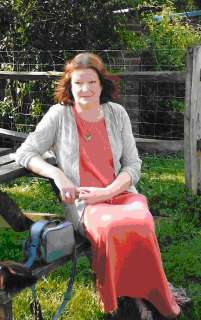 Mandy Pannett has spent many years teaching English to pupils with a wide range of abilities including special needs as well as leading creative writing workshops for children and adults in various parts of the country.
She runs an Arts Café in East Sussex and is involved in working with local writing groups, advising on, and leading, many sessions on poetry appreciation and writing.
Two collections of her poems have been published by Overstep Books (www.overstepsbooks.com) – 'Bee Purple' and Frost Hollow – and her work has been widely published in magazines such as 'Tears in the Fence', Fire, Osiris, The Journal, Envoi, The Interpreter's House, Coffee House, Other Poetry, South and online in Nth Position and Inn- Sweat-and-Tears.(http://ink-sweat-and-tears.com)
Mandy's poetry can also be viewed at www.poetrypf.co.uk
Publications
'Bee Purple' – Published by Oversteps Books – see www.oversteps.com
'Frost Hollow' – Published by Oversteps Books – see www.oversteps.com
'Allotments in the Orbital' – From Searle Publishing – see www.searlepublishing.com
Review of 'Allotments in the Orbital' 'What I like most about Mandy Pannett's poetry is the way she sees the small things of her world within a wider orbit. It is there in her title. In her alloted plot of place and time, with its common slugs and flower pots, she takes as her context the geography, history, myth and art of 'Albion' and beyond Corregio 'in the Greenhouse' while 'Titian skies' move overhead. She is, as she declares, 'layered with many personae' through which she speaks or is spoken through. Other 'levels and layers' are constantly revealing themselves within the everyday of her life. 'Three steps exactly to the nearest ghost.' 'Ghost' is her favourite word, it seems. Though sometimes haunted by painful memories and presences, this poetry is wide open to allow the guardian spirits of Chaucer and Malory and others to move through its syllables. Mandy takes her work as a poet seriously, knowing that she is creating within the living stream of a tradition, a community of language that she is responsible to as she writes. She is also, by the way, most generous in her encouragement of others within the orbit of our present poetry. Paul Matthews 18 Nov 2009.
Transparent Words
ARCHITECTURAL VOICE
http://www.poetrykit.org/pkl/TW14.pdf
INTRODUCTION
This is a special edition of Transparent Words and I have the great pleasure of being able to publish a complete work by Mandy Pannett, THE CARVER'S MARK, together with other poems on a similar theme all of these poems are accompanied by pictures supporting the poems. There is little point in saying more as the poems and the pictures all do an excellent job of speaking for themselves.
Jim Bennett May 2010
CONTENTS
THE CARVER'S MARK Poems by Mandy Pannett pgs 3 -19
MISERICORDS
TUTIVILLIUS
FACES OF FOX
HARRIDAN
A Traveller from the Ship of Fools explores dry land …
WINTER SEASON
UPON A WHITSUN TIDE
MAGIC CASEMENTS
WHITE BADGE
GRAFFITI OF SORTS
THIS IS MY HOME
STRONGHOLDS
AFTER SUNDAY
THE CARVER'S MARK
OTHER POEMS
St Mary the Virgin Kirkby Lonsdale Jim Bennett pg 21
Christchurch Priory Lesley Burt pg 22
Richardson Complex Lynn Ciesielski pg 23
The Comacini Gabriel Griffin pg 24
Shape shifter Gabriel Griffin pg 25
Bridekirk Font Martyn Halsall pg 26
Side Entrance Martyn Halsall pg 27
Staking a Claim Vivien Jones pg 28
St Mary Magdalene, Launceston Stuart Nunn pg 29
Bone Phillip's Confession Stuart Nunn pg 30
Contributors pg 31
Poetry
Pearl
I had forgotten how I felt about you, all those years ago –
The way your hair fell in your eyes and you would
toss it back and it would fall again – such
soft brown hair.
Forgotten how the nights were cold when
you were late or in a mood,
too busy just to call….
…. And just how much that pain could hurt –
when I would say My love's enough for two of us, my one
can equal two – and you would frown and turn away
or laugh it off and say Not that again!
I am well trained to keep emotion in
I was the sand inside that oyster shell –
The pain of growing to a pearl has left me dry.
Mandy Pannett
(Published in 'Frost Hollow' 2006)
---
© The Copyright for any original work appearing on this web site remains with the respective authors.